Upcoming
Final class of Holiday Survival series tomorrow, Thursday, Oct. 1 at 12 noon and again at 8 pm: From Judgment to Celebration. Lunch from Sabas...
IMPORTANT: Please let us know if you intend on joining us for Sukkot for a dinner or lunch in our sukkah, to join a minyan (any or all minyans listed below) or just to say hi and shake the lulav! You can reply to this email, RSVP online or call 713-419-3960.
Houston Hillel will be joining our Sukkot dinner this Friday night as part of their monthly Shabbat Across Houston. We look forward to a lively sukkot dinner!
The Annual Sukkot Extravaganza is an event not to miss! With a grand BBQ, rides, music, games and more - it is a fun event for the whole family! To be held at Chabad, 10900 Fondren Rd., Tues. OCt. 6, 2009, 4-7 pm!
Simchas Torah @ Chabad of Uptown will be an amazing celebration. Please join us for the celebratory dancing!
Potpourri
WOW! What wonderful Days of Awe where over 130 packed the house at Prosperity Bank Plaza and shared inspiration, tears and laughter.
Many thanks to all of the volunteers who helped setup, clean up and throughout the holidays. A very special thank you to Jenny Hunker for running a beautiful Children's Program and service and to Marc Sands, Alexander Barsky, David Barsky, David Kirsten, Leon Trakhtenberg and others who helped move in and out of the bank building!
The sukkah is being constructed now in the backyard! It will be a huge Sukkah enough for everyone to fit inside! Many thanks to Alexander Barsky, David Barsky and Dorit Golan for their partial sponsorship of the task. You can join the effort too by donating here! We will be putting the Schach on Friday morning.... Care to join?
Among other thanks, we thank Ben Shamoolian of Houston Flowery for adding the beautiful garden off of the Shul and social area! It is a pleasure to look at!
High Holiday Mailbag
it was great! Thank you and Hani for such a wonderful Yom Kippur
you are the best! it was interesting, funny and challenging in one time ---- only rabbi chaim can do it!!
The Schedule
Sukkot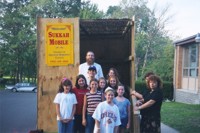 Fri., Oct. 2
- 6:49 pm Light Shabbat & Holiday Candles
- 7:00 pm Mincha & Evening Services
-8:00 pm Community Sukkah Dinner
Houston Hillel Shabbat Across Houston!
Sat., Oct. 3
- 10:00 am Morning Services
- No Lulav
- 7:00 pm Mincha & Evening Services (Maariv)
- After 7:41 pm Light Holiday Candles
Sun., Oct. 4
- 10:00 am Morning Services
- Special Chabad Hebrew School Program
- Lulav & Etrog available for public use
- 7:00 pm Mincha
- Holiday Ends 7:40 pm


Shemini Atzeret & Simchat Torah

Fri., Oct. 9 - Shemini Atzeret
- 6:41 pm Light Shabbat / Holiday Candles
- 6:45 pm Mincha & Evening Services Hakafot-celebratory dancing

Sat., Oct. 10 -
Shemini Atzeret & Simchat Torah
- 10:00 am Morning Services
- 12:15 pm Yizkor
- 6:45 pm Mincha & Evening Services -7:30 pm Grand Hakafot-celebratory dancing
- After 7:33 pm Light Candles

Sun., Oct. 11 -Simchat Torah
- 10:00 am Morning Services
Hakafot-celebratory dancing
- 6:45 pm Mincha & Evening Services
- 7:32 pm Simchat Torah Ends