We have got a busy weekend coming up with 100s expected through the doors of Chabad of Uptown & the Chai Lounge!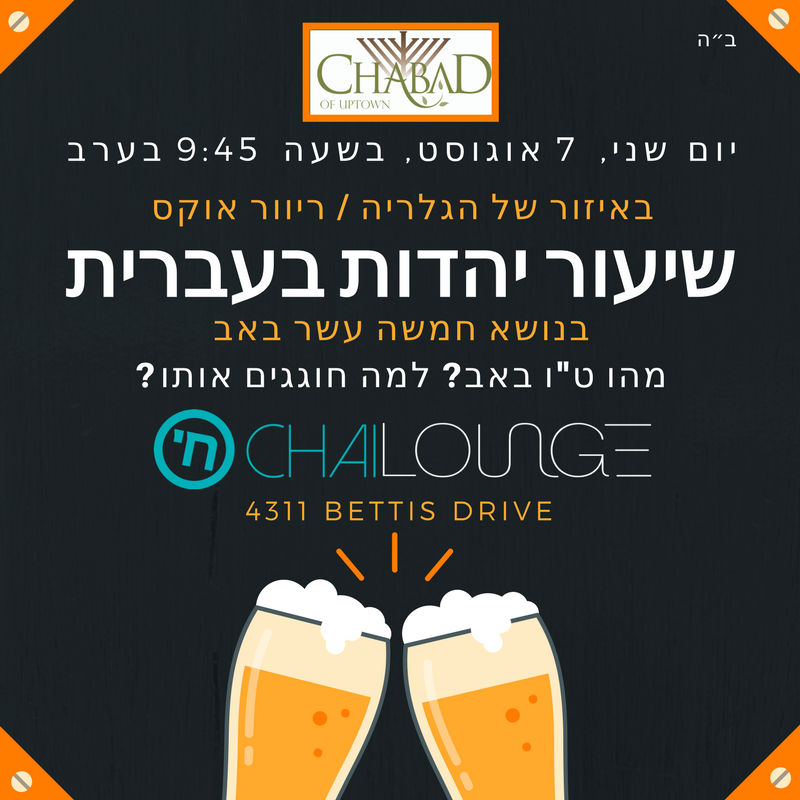 To cater to the needs of our growing community, this week we will also launch a new Judaism class series, given in Hebrew. First class, on the subject of Tu B'Av will be this Monday evening at 9:45 pm in the Chai Lounge!
Mazal tov Maurice for his milestone birthday! May you have many more years of health, strength and prosperity, along with nachas from your entire family
Mazel tov to Ilan & Julliette Melnik and the entire Melnik / Levy family on the upshern / 3 yr haircut of Seder Aslan!
PARSHA: Mother's Comfort
Why is there a need for comfort if G‑d plans to provide a solution?


---
Shabbos Parshas V'eschanan
Friday, August 4
Services at 7:30 pm
Candle Lighting at 7:54 pm | Sefardi Party - YJP First Fridays
Shabbos, August 5
Chassidus at 9 am
Services at 10 am
Followed by Shabbos Kiddush sponsored by Maurice Purcell
Mincha at 7:55 pm
Maariv, Havdalla & Shabbos Ends at 8:49 pm
Living Torah
Sunday, August 6
Shacharis at 8:30 am
followed by the real BLT = Bagels, Lox & Tefillin
Have a good Shabbos!
Rabbi Chaim & Chanie