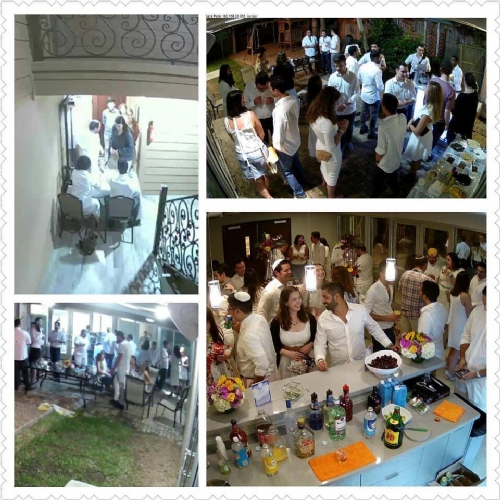 On Saturday night The White Party launched the Chai Lounge a collaborative working place for young Jewish professionals to work, meet and mingle. Young Jewish Professionals in their 20s & 30s celebrated over Handcrafted Nitrogen Ice Cream Bar by The Freezing Point, Eats & Cocktails on this special Holiday of Tu B'Av, the Jewish holiday of romance. Thank you Jewish Herald-Voice & Jason Cohen for sponsoring the raffle prizes, River Oaks Plant House for sponsoring the flowers and Roni Urunbaev for photography! Check out the photos here and short video clip of the nitro bar here!
---
MONDAYS: Following the success of the first one, the class for Hebrew speakers will continue every week on Monday nights at 9:45-11 pm
עקב הפופלוריות וההצלחה הגדולה של שיערי יהדות למבוגרים בבית חב"ד מרכז העיר, מעתה ימסרו שיעורים והרצאות גם לדוברי עברית. נושאי השיעורים מגוון, מנושאים אקטואליים לאור היהדות ועד שיעורי קבלה מעמיקים
SUN. SEPT 10, 3-5 PM: The musical & magical journey of Shirley…
המסע המוזיקלי והמופלא של שירלי…
www.chabaduptown.org/show
Use coupon code "shir" for $10 off per person or family.
More details in Hebrew & English online or on Facebook here.
---
Not to make anyone panic or anything, but, Rosh Hashana is only six weeks away! The complete High Holiday / Tishrei service, meal, program and candle lighting schedule and sign up form can be found at www.chabaduptown.org/services. High Holiday & Sukkot dinners have limited seating and we will accept reservations first come first served until we are full.
Year round, Chabad of Uptown provides compelling programming and content for the entire community. This is only thanks to your support and voluntary membership. As we prepare for the High Holidays, now is the time to consider joining or renewing your voluntary single or family membership with Chabad of Uptown.
---
Shabbos Parshas Eikev
Friday, August 11
Services at 7:30 pm
Candle Lighting at 7:48 pm | RSVP for dinner sponsored in honor of Raphael Rose by his parents Michael Rose and Riki Horowitz
Shabbos, August 12
Chassidus at 9 am
Services at 10 am
Followed by Shabbos Kiddush sponsored by the Melnik family
Mincha at 8:05 pm
Maariv, Havdalla & Shabbos Ends at 9:05 pm
Living Torah
Sunday, August 12
Shacharis at 8:30 am
Followed by the real BLT = Bagels, Lox & Tefillin
Have a good Shabbos!
Rabbi Chaim & Chanie