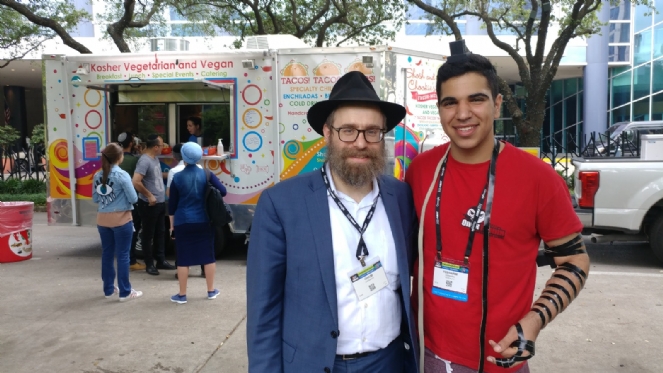 Unbelievable that another week has passed!
We are expecting a spirited group from Israel to join us for Shabbat dinner this week. They are one of 23 delegations from Israel competing in an international First Robotics Competition. We visited their booths, cheered them on, organized a Kosher food truck for them and of course wrapped tefillin! If you want to join us for dinner, please RSVP at www.chabaduptown.org/shabbatdinner

It is very inspiring to see the Israeli youth coming up with ingenious ways of building their robot to be the most competitive!
We are building ourselves day by day towards Shavuos, we too need to come up with ingenious ideas of how to beat our own system and improve ourselves by making our counting of the omer, count.
Make your count now www.chabaduptown.org/omer
Click here for a video of Torah Day School visiting with visiting with the team MishMash - FTC Team #12016 from Beer Sheva, Israel
---
UPCOMING:
New JLI course starts this Tuesday, April 24! What is? Rethinking Everything we Know About our Universe More...
6-Braid Challah Workshop - By popular demand April 29, 11:30 am. Please reply to this email to RSVP.
Lag B'Omer - Save Dates!

Young Professionals: YJP Houston Jazz & Artisan BBQ, Wed., May 2, 8 pm
Community: Celebration at Godwin Park, Thurs., May 3, 4-7 pm

Cinco de Shabbat - YJP First Fridays, May 4 - Click
FCYA Gala is coming up! We hope you can join us Sunday, May 6. We can still squeeze in a message in the journal in honor of Batami and / or the committee! www.circlegala.com
Mazel tov to Lee & Alon Ben Shushan on the birth of a baby girl!
Mazel tov to Anat Friedman & Joseph Kessler on the birth of a baby boy!
---
Shabbos Parshas Tazria-Metzora
Friday, April 20
Candle Lighting & Mincha at 7:34 pm
Services at 7:30 pm | RSVP for Shabbat Dinner
Shabbos, April 21
Chassidus at 9:00 am
Services at 10 am
Followed by Shabbos Kiddush & Farbengen
Mincha at 7:30 pm
Ethics of our Fathers, Ch. 2
Maariv, Havdalla & Shabbos Ends at 8:29 pm
Living Torah
Sunday, April 22 - Shacharis at 8:30 am, Followed by the real BLT = Bagels, Lox & Tefillin
Monday, April 23 - Shacharis at 6:45 am
Thursday, April 26 - Shacharis at 6:45 am
Have a good Shabbos!
Rabbi Chaim & Chanie